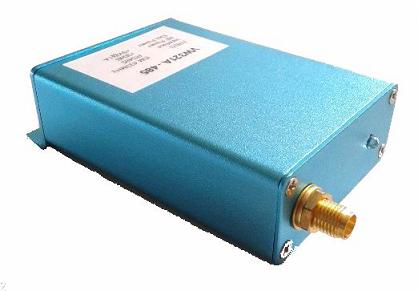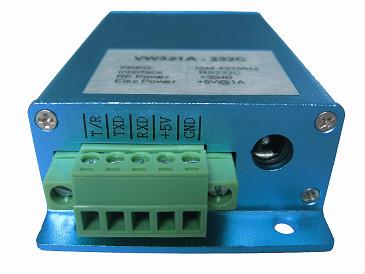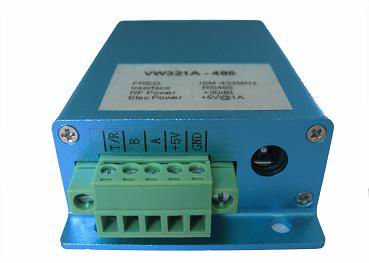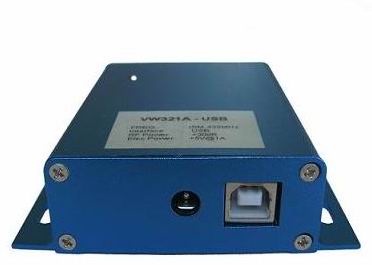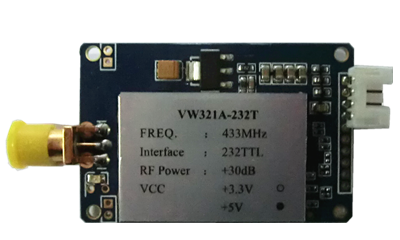 VW321A Interface:232 Interface:485 Interface:USB Interface:232TTL
The VW321A series wireless module provides the capability of a short range,reliable wireless point-to-point,point-to-multipoint and mesh network RF data communications link. They can be used in a variety of data communications applications that require a simple to use invisible data link.
The wireless modules are designed to operate in the unlicensed ISM frequency band (315MHz/433MHz/868MHz/915MHz ISM band) and are therefore acceptable for use in many countries.
Features:
● 4 Operation modes: Transparent mode,Transparent secured mode,Addressed mode and Addressed secured mode.
● Repeater supported
● Integrated wireless link protocols
● Deep sleep mode (Power down mode) /Wakeup Control
● Server-Client mode
● Broadcast Multi-drop mode
● Easy configuration by AT commands.
● Easy configuration with a user friendly control panel on PC.
Major parameters:
Frequency band:
315/433/868/915MHz
Interface:
RS232/RS485/USB
Modulation:
2-FSK
Max. Tx. power:
1W (+30dB)
Max.operating current:
1A
Supply Voltage:
+5V(USB/RS232);+24V(RS485)
RF data rate:

1200bps ~ 115.2kbps

Channel numbers:
Multi- channel
linkage range :
2km linkage range at 9600bps,L.O.S
operate temperature:
-30℃ ~ 80℃
Size:

80mm x 50mm x 20mm

(

Interface

:

RS232/RS485

)

84mm x 84mm x 24mm

(

Interface

:

USB

)

Interface footprint:
Terminal Block/USB
Antenna impedance:
50Ω
Major applications:
Wireless 232 or 485/422 data link
Water,electricity,gas and other automatic meter reading (AMR)system;
Building automation system; Security entry system;
Intelligent traffic; Vehicle Control;
Wireless scanner;
Restaurant Order System Management;
Industrial control,remote sensing,automatic data collection system;
Wireless data transmission; Digital audio,digital image transmission;
Wireless electronic display screen;
Telemetric systems
Oil Well Measuring,Environmental Protection Monitoring
Hydrology Water Level Monitoring
Robot Controls
Wireless conference system; Wireless microphone solutions
etc.
VW321A-485(+24V):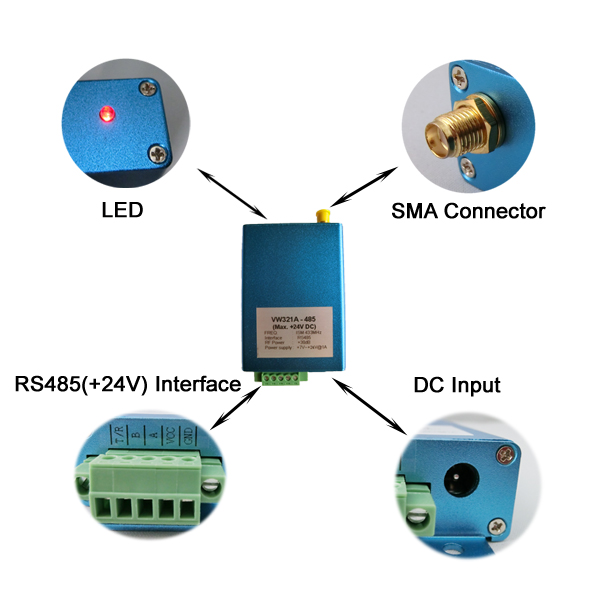 VW321A-232C: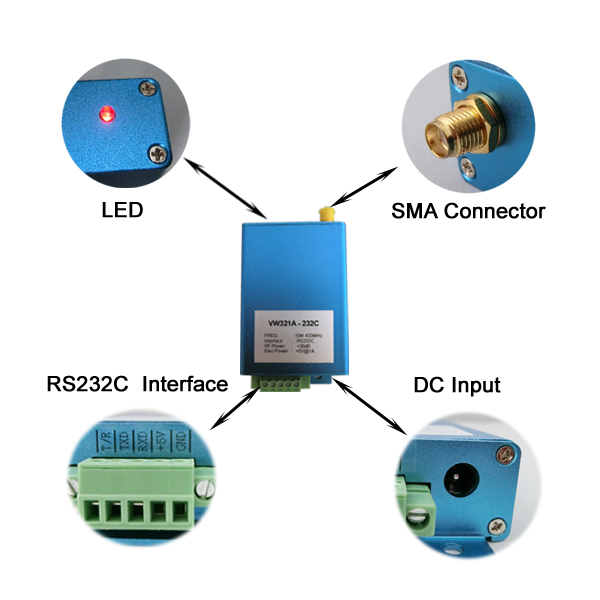 VW321A-USB: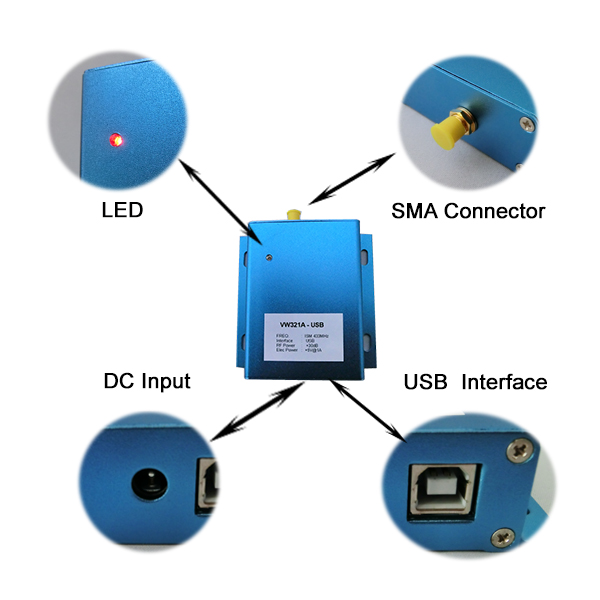 Downloads:
Pin Assignment Diagram of VW321A.pdf